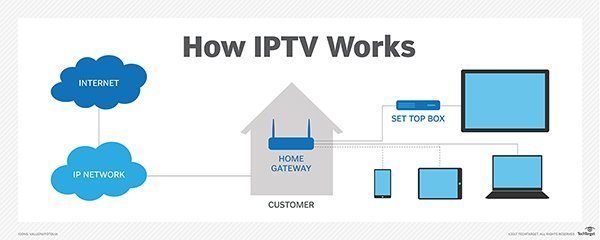 IPTV is essentially the delivery of media content, videos or live television over an IP network. This can either use the public internet or a private local area network (LA) or wide area network (WAN). An IPTV service can be delivered to an IP enabled TV, mobile phone, tablet, laptop or PC and can be easily incorporated into a video on demand solution.
IPTV is commonly used by businesses and organisations to deliver TV to waiting areas, reception and common rooms (often integrated with digital signage capabilities). IPTV is also a popular solution for the provision of television services within a hotel, hospital or residential property.
Here are some other helpful descriptions;
Internet Protocol television (IPTV) is a system through which tv services are delivered using the internet protocol suite over a packet-switched network such as a LAN or the internet, instead of being delivered through traditional terrestrial, satellite signal, and cable television formats.
IPTV systems may be classified into three main groups:
Live television with or without interactivity related to the current TV show;
Time-shifted television: catch-up TV (replays a TV show that was broadcast hours or days ago), start-over TV (replays the current TV show from its beginning);
Video on Demand (VOD): browse a catalog of videos, not related to TV programming.'